Guided by the intention of supporting those in need, the Oprah Winfrey Charitable Foundation (OWCF) supports organizations around the world. Oprah Winfrey herself, the Oprah Winfrey Foundation, and the Oprah Winfrey Charitable Foundation have helped organizations that serve children, families, and communities, with a specific focus on youth education.  OWCF has also provided assistance to similar organizations since 2010.
Our mission is to lead, to educate, to uplift, to inspire and to empower women and children throughout the world, opening doors so that each person can begin to define what it would mean to lead their best life and fulfill their own possibility for greatness. It is a lasting commitment to teaching, learning and growing.
Due to the COVID-19 pandemic, with millions unemployed and desperate for basics, including food, shelter and access to proper health care, the Foundation has pivoted to partner with organizations addressing this crisis to get people the care they urgently need. We are all in this together.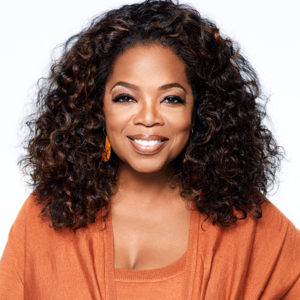 OPRAH WINFREY is a global media leader, producer, actress and a dedicated philanthropist.
Oprah has long believed that education is the door to freedom, offering a chance at a brighter future. Through her private charity, she has awarded hundreds of grants to organizations that support the education and empowerment of women, children and families in the United States and around the world. Amongst her various philanthropic contributions, she has donated millions of dollars toward providing a better education for students who have merit but no means. "The Oprah Winfrey Scholars Program" was created to give scholarships to students determined to use their education to give back to their communities in the United States and abroad.
In a 1997 episode of "The Oprah Winfrey Show," Oprah encouraged viewers to use their lives to make a difference in the lives of others, which led to the creation of the public charity Oprah's Angel Network in 1998. Oprah's Angel Network raised more than $80 million, with 100% of the donations funding charitable projects and grants across the globe. Oprah's Angel Network helped establish 60 schools in 13 countries, create scholarships, support women's shelters, and build youth centers and homes – changing the future for people all over the world. The Angel Network distributed its final grants, six $1 million donations to U.S. charter schools, in September 2010.
In December 2002, The Oprah Winfrey Charitable Foundation expanded its global humanitarian efforts with the "Christmas Kindness South Africa 2002" initiative that included visits to orphanages and rural schools in South Africa where 50,000 children received gifts of food, clothing, athletic shoes, school supplies, books and toys. Sixty-three schools received libraries and teacher education.
During a visit with Nelson Mandela that same year, Oprah pledged to build a school in South Africa, and has since contributed more than $200 million towards providing education for academically gifted girls from disadvantaged backgrounds. Graduates of the school have continued on to higher education both in South Africa and at colleges and universities around the world.
In 2004, Winfrey became a founding donor of the Smithsonian's National Museum of African American History and Culture and is the single highest donor with a donation of $21 million to the museum to date. In 2018, the museum opened "Watching Oprah: The Oprah Winfrey Show and American Culture," an exhibit exploring Winfrey's life and her talk show's impact featuring artifacts from the set, costumes from her movies and interactive interviews.
In 2015, Oprah used her partnership with Starbucks and Teavana to benefit youth education around the country when she announced 100% of her proceeds from the Oprah Chai beverage would go towards organizations including Girls Inc., National CARES Mentoring Movement, Pathways to College and U.S. Dream Academy, with over $5 million donated in total.
In 2019, Ms. Winfrey visited Morehouse College in Atlanta on the 30th anniversary of the launch of the Oprah Winfrey Scholars program, which has supported over 700 men with college scholarships. During the visit, Ms. Winfrey announced that OWCF would contribute an additional $13 million to support the scholarship program at Morehouse College, bringing the total grant support to $25 million.
In 2020, Oprah Winfrey made a $13 million commitment to COVID-19 relief efforts, focusing on food insecurity and those most impacted by the pandemic in her "home cities," including Chicago, Milwaukee, Nashville, Baltimore and Kosciusko, Mississippi.
Over the years, Ms. Winfrey has donated millions to education in the United States to organizations including the United Negro College Fund (UNCF), The Ron Clarke Academy in Atlanta, and many others.
In 2013, Winfrey was awarded the Medal of Freedom, the nation's highest civilian honor. In 2018, she was honored with the Cecil B de Mille award by the Hollywood Foreign Press Association.