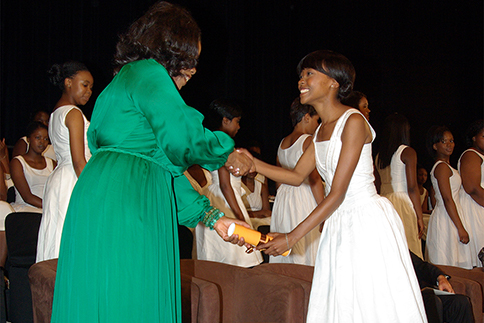 How the Oprah Winfrey Leadership Academy for Girls Changed Thando Dlomo's Life
When Thando Dlomo first heard Oprah Winfrey was building a school in South Africa, she was living with her grandmother, who was working as a domestic worker. "We lived in the backyard of her employer's house," recalls Dlomo, now 27. "I went to a school in the white neighborhood, and there were very few girls (Black) like me. Because my grandmother was a domestic worker, we barely had any money. We would often struggle for little things, like food, my school fees. I was in debt in terms of my school fees. I was the kid who would always be sent home with the little white envelope at the end of the month, and everybody knew that  meant you owe the school some money."
So when school administrators told Dlomo and her grandmother she might want to apply to Winfrey's new academy, she was skeptical. "I said, 'You believe that? Because I don't,'" Dlomo says. "I thought to myself, 'This is how they (the school) want to get rid of me? Making up this stuff about Oprah?'"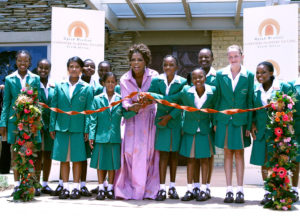 Dlomo laughs at the memory now. In 2012, she was part of the inaugural graduating class of the Oprah Winfrey Leadership Academy for Girls (OWLAG). After OWLAG, Dlomo moved to the United States to attend Johnson C. Smith University in North Carolina. Since receiving a Master's Degree in Journalism from the prestigious Annenberg Center at USC in 2018, she has worked as a content producer for Entertainment Tonight in Los Angeles.
On Jan. 1, 2007, Dlomo and 71 other students walked onto the 52-acre grounds of OWLAG and began building their bright futures. "I remember the moment we all got off this big gigantic bus for the opening day, walking onto campus with Mom O, holding hands," says Dlomo. "We were looking at the beauty of the campus and just mesmerized by every single detail: the painting of the girls dancing on the theater wall; the art on the murals by the dining hall; and then, of course, to have our own rooms with our own beds. That was a first for many of us on campus."
She adds, "I just felt deeply cared for, provided for, and I felt like I was in a very whole and nourished environment."
Not everything was cheerful. Counseling and therapy are an essential part of the OWLAG support system, as students come from impoverished backgrounds, and many have survived childhood trauma, including the death of a parent. Dlomo had to face that painful experience during her time at the school.
"I remember when I was leaving for OWLAG my mom and my grandmother were there to see me off. I remember seeing a tear in my mom's eye as we drove out of the driveway, and she was waving at me," she says. "I didn't realize at the time that would have been one of the last times I had seen my mom at her healthiest."
Her mom had managed to see her a couple of times, and at one point, both she and Dlomo's grandmother were scheduled for a family visit. But only her grandmother arrived. "I kept looking behind my grandmother, 'Where is she? Where's my mom?'" she recalls. "And my grandmother's energy was just really low, she wasn't her happy-go-lucky self." The two headed to a counselor's office where she was told, "Your mom is sick. She's in hospital and that's why she couldn't be here today." But Dlomo didn't understand the illness was serious. "I had never known my mom to be somebody who is ill or even prone to illness. She was always a very strong, very healthy woman. But what I didn't know at the time was that my mom had been … For the past couple of months that I had been at OWLAG, at that time, she was battling HIV and was in hospital, seriously and gravely ill. This is the plague of the African family—the shame that comes with this disease. And them feeling like as a child you need to be protected from knowing that somebody in your life is affected with it. Had my mom been open, had my grandmother been open with the kind of illness that my mom had and was dealing with she could have been able to receive help."
Two days after her grandmother's visit—the day before Dlomo, then only 15, was to return home—her mother died.
"My mom, because she had me at a very young age (she was a teenager), I was very close to her," says Dlomo. "Very, very close to her. My best friend. And so it was so hard to reconcile with all of that."
She adds, "For a while I just had the greatest amount of regret and I could not pinpoint where to pass the blame. Why didn't they tell me sooner? Why didn't they tell me it was a dying matter?
Unfortunately, a similar scenario played out with Dlomo's father as well.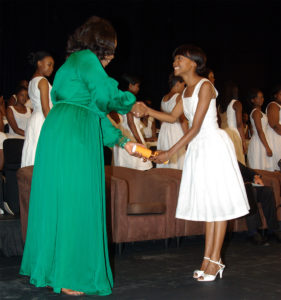 Having largely grown up without him in her life, Dlomo and her dad had a strained relationship for many years. "But after many conversations, Mom O's greatest advice to me was to drop the expectation," she says. "I needed to start seeing this man as just human doing the best he knows how. Once I put a lot of things into perspective, like how young he was when he had me, I started to view him differently and that changed our relationship for the better. We started to build a friendship."
"I started to learn about his line of work and he was interested in mine," she says. "And he was the only educated family member I had, so he would give me advice sometimes and it was really refreshing. I was like, 'This is better than I could imagine.'"
Then, while at USC, her aunt called and asked if she could return home to South Africa, because her dad was sick. She recalls, "I remember that night I went home thinking to myself, 'Let me just sleep on this and I'll decide in the morning what I'm going to do because I don't know how serious it is.'" The next morning, Dlomo looked at her phone and saw she had a dozen missed calls. "My heart just dropped immediately, I knew," she says. "He had bacterial meningitis and had been in the hospital for about a week. And, again, just like my mom, I hadn't known the gravity of his illness and was one parent short yet again."
Living through such difficult times has influenced her journalism career at Entertainment Tonight. "I have found a little niche for myself," she says. "I'm the one who tells all the good news stories now. My childhood prepared me to withstand and find the good in things, even during crazy wild, wild times."
She is also trying to help other young girls overcome trauma in their lives. "I speak on trauma-based education with reference to everything that OWLAG was for me and my trauma. I talk about turning our past and hurts into our greatest strengths."
OWLAG changed her life, she says. And what if it had all been a hoax, as she suspected all those years ago? "Mom O has asked me, 'What do you think you'd be doing? Where do you think you'd be?' I cannot even imagine. probably would still be in that hustle mode trying to put together something one way or another."
She says, "Without OWLAG, I know I wouldn't be half the person I am now."