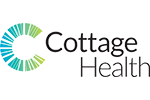 Cottage Health is a not-for-profit organization providing advanced medical care for patients throughout California at Santa Barbara Cottage Hospital, Goleta Valley Cottage Hospital, Santa Ynez Valley Cottage Hospital, Cottage Children's Medical Center and Cottage Rehabilitation Hospital. Specialties include the Level I Trauma Center, Neuroscience Institute, Heart & Vascular Center, Center for Orthopedics and Level II Pediatric Trauma Center. Cottage Health also offers Cottage Urgent Care Centers throughout the tri-counties, and Cottage Virtual Care provides 24-hour access to clinicians online.
The mission of Cottage Health is to provide superior health care and improve the health of our communities through a commitment to our core values of excellence, integrity and compassion.
10,000: Virtual visits performed by Cottage since December 2019
21,000: People who received in-patient care at Cottage Health hospitals in 2019
80,000: Patients treated in the hospitals' emergency departments in 2019
Early in the pandemic, the Cottage facilities team quickly established negative-pressure isolation units dedicated to COVID-19 care, and the team continues to flex these units to match patient census, allowing for complete separation of patients with and without COVID-19.
Cottage Health's Population Health Team focused efforts on COVID-19 response to provide resources for vulnerable populations, distributing emergency kits with symptom monitoring tools for those in need. Cottage also provides emergency COVID care kits to patients leaving the hospital, plus free virtual COVID-19 assessments online.
Contributions to the Cottage Assistance & Relief for Employees (CARE) Fund employees in need during the COVID pandemic has allowed healthcare workers to continue caring for the community with less stress about their financial situation amidst the pandemic, despite several families experiencing a drop in employment, or increased childcare needs.