Santa Barbara Unity Shoppe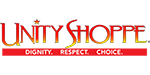 The Unity Shoppe in Santa Barbara provides a sustainable support system for those in its community who face unforeseen crisis, by providing free essential services: nutritious food, school clothing, senior care, plus volunteerism programs and job training for youth and adults.
An average of 300 non-profit organizations (churches, schools, hospitals, senior programs, shelter services, counseling centers, etc.) and individuals refer 18,000 people to the Shoppe annually. Referred families, children, elderly and disabled are given the opportunity to use the "Central Distribution Facility" and any of the Unity programs for a one-year period. There is no charge and they may shop for food, clothing and basic needs to supplement their income during times of crisis so they can pay their rent and avoid homeless situations.
Unity Shoppe Programs include: Grocery & Clothing Center, Work, Learn & Earn Programs, Long-Term Disaster Services, Senior Resource Center, Job Smart Program, and Santa's Toy Shoppe.
18,000: Number of people served by donations to the Unity Shoppe each year
$1.5M: Amount in donated food products distributed to clients annually
1,700: Number of students and seniors who run the Unity Shoppe
Unity Shoppe is responding to the impact of COVID-19 on county residents, including the newly jobless and their multigenerational families, children and others needing groceries to alleviate food insecurity as a result of the pandemic. Compared to the spring of 2019, now more than 85% of the Shoppe's clients are considered "new" to the organization (never having sought Unity Shoppe services in the past). Many are recently unemployed, and primarily from the hospitality industry (hotel and restaurant employees), plus retail and health care workers.
During COVID, many Unity Shoppe clients are shopping there twice per month for groceries–that is DOUBLE what is typically accounted for in a normal year.