Oprah Winfrey Scholars Program at Morehouse College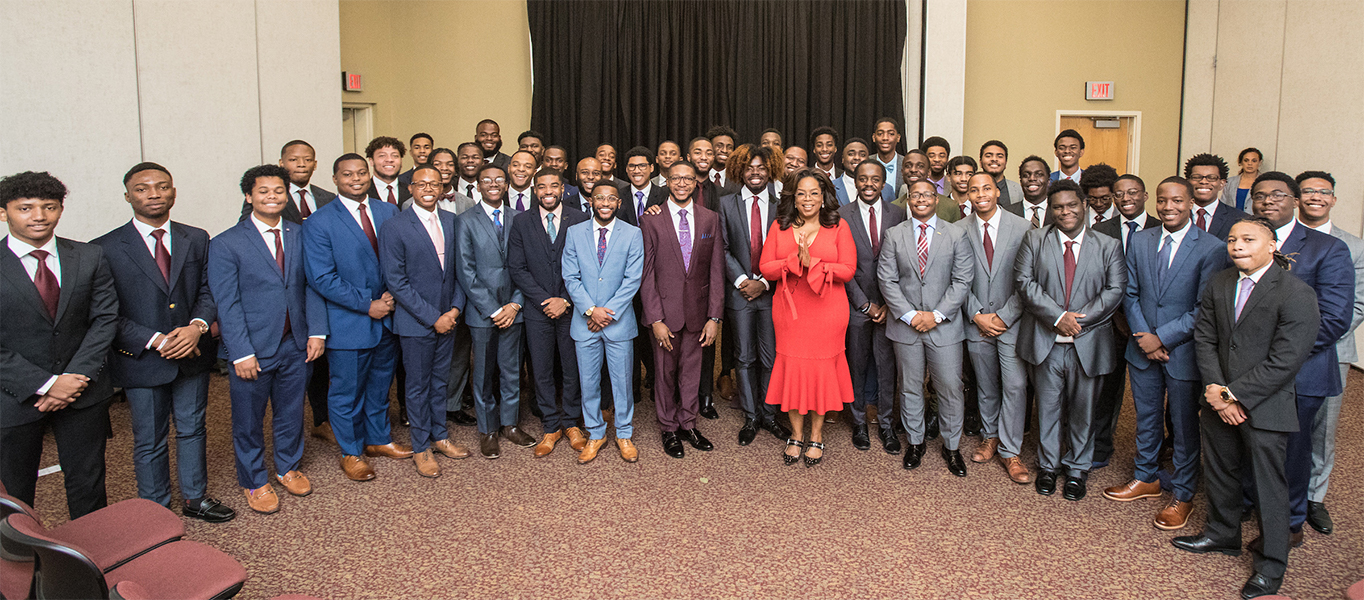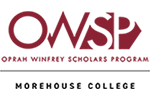 The Oprah Winfrey Scholars Program at Morehouse College was established in 1989 through a generous gift from Ms. Oprah Winfrey. Over the last 30 years, Ms. Winfrey endowed three scholarship programs and the South Africa Leadership Program through gifts totaling $25,000,000. The Oprah Winfrey Endowed Scholarships have funded the educations of more than 700 students at Morehouse, enabling them to complete their undergraduate degrees, and enabled approximately 300 students to travel to South Africa.
Over 700: number of Morehouse students funded by the Oprah Winfrey Scholars Program at Morehouse College over past 30 years
480: Number of students at Brown Elementary and Booker T. Washington High School that Morehouse scholars are currently mentoring
130: Pairs of shoes donated in recent OWSP Shoe/School Supply Drive for children and adults in Tanzania and Kenya, delivered to schools and churches there in July 2020
Collaboration with Oprah Winfrey Leadership Academy for Girls:In February 2020, hosted a contingent of faculty and leaders from the Oprah Winfrey Leadership Academy for Girls in Johannesburg, South Africa. OWSP scholars and faculty had previously visited the girls school in South Africa last summer and continue to discuss ways to collaborate, especially around leadership development.
South Africa Lecture Series: Collaborated with the Andrew Young Center for Global Leadership to offer an intensive series of lectures on the history, politics, and culture of South Africa including sessions to explore the rich history of resistance and social activism, and the political realities of the country today.
Morehouse-Brown Leadership Academy: Implemented this Academy with Brown Middle School–an after-school program that includes implementation of a leadership curriculum, as well as tutoring, mentoring, and the hosting of middle school boys for shadow days at Morehouse.
Spotlight On: Oprah Winfrey Scholars at Morehouse College
In 1989, Oprah Winfrey donated $13 million to Morehouse College, a top all-male historically black college. She not only wanted to provide smart, talented young men an opportunity they might not otherwise receive, she hoped the scholars would one day impact their communities and the world. Today, the Oprah Winfrey Scholars number over 700, and they are making their mark in a wide array of fields. Here are a few: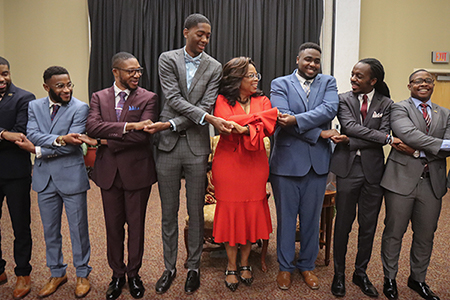 Sháka Rasheed, Class of '93
To pay for college, Rasheed solicited donations from community leaders in his hometown of Miami. But still short on funds just days before starting his sophomore year, he was granted a full scholarship. "I cried like a kid," he says. He's now a hedge fund senior manager.
How He Gave Back
Rasheed and two other alums encouraged 127 Scholars to donate $300,000 and pledge $1.2 million. Combined with other funding, they supported dozens of students.
How He Influenced Others
As an associate at J.P. Morgan in 1995, Rasheed met Luis Belén, an intern from East Harlem. Rasheed became Belén's mentor, introducing him to colleagues, teaching him trading floor etiquette, and buying him an interview suit. Belén now owns a business consulting firm.
Inspired by Rasheed's example of service, Belén launched Medic Success, a firm that connects health providers and agencies with underserved (particularly Latino) communities.
Anthony Jewett, Class of '03
A first-generation college student, Jewett lost his freshman-year grant due to poor grades. When he returned to Morehouse following a summer of volunteer work in Africa, the school offered him the Oprah scholarship, which was, he says, "a miraculous second chance."
How He Gave Back
After graduation, Jewett became a bilingual elementary school teacher in the Bronx, working with kids who rarely left their neighborhoods.
Drawing from his teaching experiences, Jewett cofounded NC4GE, which has sent more than 250 students from high-needs schools to study abroad in 26 countries.
How He Has Influenced Others
On an NC4GE trip to Panama, high school student Serah Wise met girls and women who lacked basic supplies like toothpaste and tampons. Upon returning to the United States, she helped start Project Reach, a group that sent 1,000 toiletry kits back to Panama.
Through NC4GE, high school student Adia Dightman visited villages in Argentina where literacy rates were low,then started a reading program for women in Houston, her hometown.
What I'm Doing Now
"I work as managing partner of a community development venture capital fund that is focused on neighborhood revitalization in the community where I grew up."
Major Van Adamson, M.D., Class of '01
Adamson was offered the Oprah scholarship for the fall semester of his sophomore year. (He later enrolled in ROTC, which paid the remainder of his tuition.) After graduating, he completed medical school, went on active duty, and is now an air force major and cardiology fellow.
How He Gave Back
In 2009 Adamson treated American soldiers—often amputees injured by improvised explosive devices—and critically injured Iraqi citizens at Air Force Theater Hospital in Balad, Iraq.
Adamson currently sees veterans, soldiers, and their families in cardiology clinics at Wilford Hall and Brooke Army medical centers, both in San Antonio. "The scholarship started a ripple effect," he says.
His Future Plans
Adamson plans to open free primary care clinics in impoverished neighborhoods and hopes to play a role in crafting public health legislation.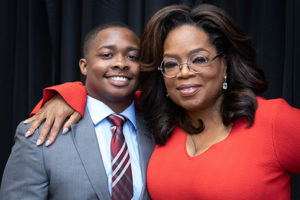 Micah Holmes, Class of '20
Micah Holmes wasn't sure how he was going to pay for school. With hard work, he qualified for the Oprah Winfrey Scholarship at Morehouse College. Now working for the NFL, this remarkable young man is determined to help dozens of struggling kids in his hometown. "It's my obligation to give back," he says.