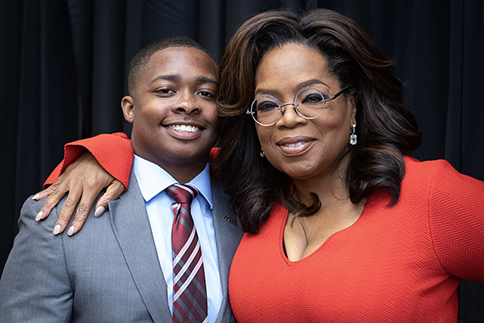 Micah Holmes and the Power of Purpose
Oprah Winfrey Scholar Micah Holmes took opportunity and turned it into inspiration not only for himself, but for dozens of struggling kids in his hometown: 'If I'm Rising Up by Myself, I'm Not Doing Anything – It's My Obligation to Give Back'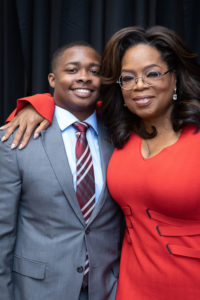 On any given Sunday – or Monday night, or really any night of the week – football aficionado Micah Holmes, 22, is likely hard at work for the National Football League, brainstorming new ways for fans to enjoy the game that has been a love for him and his friends and family.
"The game of football is bigger than pigskin with some laces," Holmes says. "It develops friendships and discipline. It keeps people connected, involved, out of the streets making bad decisions. It is something I value, that I have valued my entire life."
Though working as a member of the highly selective Junior Rotational Program at the NFL -currently focusing on Event Strategy – means that his home is now in Brooklyn, N.Y. far away from his Cleveland, Ohio hometown, it's never far away from his heart. Since 2016 when he was still in high school, he and his friends launched the non-profit Overtime Sports, a weekend athletic leadership camp for children ages 7 to 14 in Cleveland where kids run drills led by professional athletes and listen to speeches from leaders they can be inspired by. It's a focus of giving back that Holmes says he learned from the woman who made it possible for him to chase his own dreams on such a fast track – Oprah Winfrey.
"Being an Oprah Winfrey scholar gave me so many opportunities," he says. "And I think she wants us to pay it forward. If I'm rising up by myself, I'm not doing anything. It's my obligation to give back. I will do that without a doubt."
A PROMISE KEPT
Every summer growing up, Micah Holmes would look forward to his family's annual trip from their Cleveland, Ohio hometown to Atlanta, Ga. to visit his Aunt Brenda and Uncle Bernard Scott. There, the youngest of four boys would take in his aunt's admonitions about what kind of a man he should be – and how important it was for him to start out with a college education. She was an English professor at Georgia Perimeter College (now Perimeter College at Georgia State University) and she particularly wanted her young nephew – who, like his brothers, was in love with playing and watching the game of football – to go to Morehouse College.
"She was the glue that held my whole family together," Holmes remembers. "She was the person that planned the family reunions, she was the person you would call if you needed help with your homework If I got in trouble with my mom, she would tell Aunt Brenda and I would have to answer to her too."
Her dream for her beloved nephew would become her legacy: when she died from breast cancer in Holmes's sophomore year of high school, her wishes for his life became his own.
"She was one of the first people to believe in me," he says. She wanted me to go to Morehouse and I made it my mission to go there."
Morehouse College was the only school Holmes applied to his senior year at Benedictine High School, where he played running back, connected with his teammates and coach and pushed his academic studies into high gear. He was overjoyed when he found out he was accepted – but concerns about the financial burden it would mean to his parents haunted him. His father, Michael, worked in collections at a bank; his mother, Marian, had gone to college herself to begin a new career in the healthcare industry after her work as a real estate agent disappeared during the 2008 recession. With older brothers Demetrius, Michael and DeMarr all completing college, he knew that there wasn't a huge reserve of cash in his family for him – and it worried him.
"My mom knew I wanted this," Holmes says. "She saw the promise in me and she said, 'If you really want to go, I got you your first year. Just work hard and don't waste my money. Try your hardest to get a scholarship.' She had already paid for me to be in a private high school. I thought of the sacrifices that people in my family made for me, the visions they had for me and I wanted to honor that, live up to that."
A WEIGHT LIFTS, INSPIRING DREAMS
His freshman year at Morehouse was the most focused of his entire young life, Holmes recalls. There was not a lot of the party attitude that sometimes comes with a young man being out on his own away from his family with freedom for the first time. He buckled down on his studies and got My freshman year my first semester I landed a 3.54 his first semester.
"I said,'That GPA is not going to get me a scholarship,' and I really wanted that bad…so next semester I got a 4.0 and that rounded my GPA to 3.77," he says. "I talked to financial aid and they said check your account in a couple of days…and I was an Oprah Winfrey Scholar."
He took a screenshot and shared his good news with his relieved mother and family.
"Just that moment, I can not describe it, how much it did for my life, how much it has done for my life," Holmes says. "Everything I have from sophomore year until now is because of that.. It changed my life.
"It was the largest lift off my young shoulders. My mother was so happy and so honored that I worked that hard. I get emotional thinking about it. It meant everything to me."
The freedom from financial fear and worry allowed Holmes to experience his campus life more fully, join clubs and take on leadership roles. Everything was different.
"I did things I never thought I could," he says. " I really became a whole new me, growing in a lot of ways I never thought I would  and did things I never thought I would."
Knowing that Oprah Winfrey was forever connected to his own life was an honor, he says, 'It's a wow factor to it." And mentors in the scholarship program like Dr. Jann Adams, Dr. David Wall Rice and Dr. Belinda Johnson White "really took the program by storm, making sure the students were getting the leadership development qualities we needed," Holmes says, "being engaged and sticking to what Ms. Winfrey really envisioned for us to do when she donated that money."
Not only did Holmes expand his experiences on campus, but he also was able to leave the country for the first time in his life as part of the Oprah Winfrey South Africa Leadership Program, traveling to Johannesburg and Capetown.
"I was seeing different sights, learning about the the aids epidemic, comparing apartheid to slavery back in America, learning about different cultures around these different cities and seeing it first hand," he says. "It was amazing and we didn't have to pay a dime, it was all through Oprah. It changed my life. And having mentors in my corner like Dr. Adams, Dr. Wall Rice and Dr. Johnson White, they pushed me to be so much better."
He joined the Oprah Winfrey Scholars Advisory board to continue working hand-in-hand with his mentors to help other students going into the program, "making it a full circle moment," he says.
SAYING THANKS
When Winfrey came to visit Morehouse during Holmes's senior year, he helped plan for her visit and was the keynote speaker on behalf of the other students in the program, trying to express thanks and at the same time show what their efforts had accomplished.
"So many students in the program wouldn't be able to be in college if it weren't' for Oprah Winfrey," Holmes says. "We take that seriously, I appreciate it so much to this day.
When she came in, I still feel that feeling from the day, being able to look her in the eye and thank her and tell her what she has done for me and my family, the burden she has relieved of my stress. I never would have thought back in Cleveland growing up that I would be where I am today in New York city, doing what I am doing.
"It's a moment I will never forget…Looking in her eyes and telling her, she has really changed my life. She has changed my life. She has changed all of our lives."
INSPIRING OTHERS
Somewhere in a bedroom in Cleveland, Ohio – or countless other neighborhood bedrooms around the nation – there are little girls and boys with big dreams, overwhelmed by trying to figure out how to make them come true and Holmes wants them to know they are like him. That anything is possible.
"Stay true to yourself," Holmes says he wants them to know. "If you believe in yourself you can do anything beyond measure. Look at me now. I am working for the National Football League, something that people dream of and I am doing it. Keep working hard, your quality of work will be noticed even if you don't think people are looking.
My scholarship changed my entire life, not just because of the money but the experiences, it involved so much more than just me getting a check. It allowed me to help in a way I didn't know I possibly could."
As he continues to mentor others through his Overtime Sports program in Cleveland, and through those coming up behind him in college, he insists that the promise that Oprah saw in him and in other scholars like him can be one that is realized around the county, no matter what the obstacles.
"Whatever you want to do in life, whatever path you want to take, you can," Holmes says. "Show that you can't be denied."
Holmes doesn't limit his own dreams or think that what could come next for him is impossible.
"There is a lot I want to do personally and in my community, I want to expand Overtime Sports works because kids need mentorship and programs free of charge," he says. "I want to develop the youth in Cleveland, Atlanta, and New York. I want to go up from here, I am reaching goals I never thought possible.
I want to be that great executive, the commissioner of the National Football League someday,  I never put a cap to what I can do because I can see what I can do in a short period of time. I want to be an inspiration to help others see what they can do."
It all comes back, for him, to the moment that Oprah Winfrey believed in him enough to fund his education, he says – and it's something he purposes never to forget.
"There were times that were hard, but I just kept pushing," he says. "It's amazing where I am today, all that was realized because Ms. Winfrey believed in me, because she gave me that opportunity.I will never stop growing, I will never stop thanking her…and  paying her back."