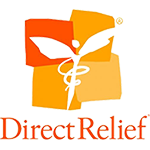 Direct Relief is a humanitarian aid organization, active in all 50 states and more than 80 countries, with a mission to improve the health and lives of people affected by poverty or emergencies – without regard to politics, religion, or ability to pay.
Since January, Direct Relief has been working in overdrive to get protective gear and critical care medications to as many health workers as possible, as quickly as possible. Direct Relief is coordinating with public health authorities, nonprofit organizations and businesses in the U.S. and globally to provide personal protective equipment, essential medical items, and emergency funding to health workers and organizations responding to coronavirus (COVID-19).
$1,087,035,837: Amount of Medical Aid given thru Direct Relief since Jan. 1, 2020
156,137,054: Doses of medicine distributed by Direct Relief since Jan. 1, 2020
$36M: Amount of financial support given by Direct Relief to health facilities responding to the COVID-19 pandemic
GET INVOLVED
Since January, Direct Relief has delivered more than 46 million N95 and surgical masks, more than 8 million gloves, more than 2 million face shields, and tens of thousands of protective suits and other items to help safeguard health workers.
To support safety-net health workers serving America's most vulnerable communities, Direct Relief established the Covid-19 Fund for Community Health. The Fund has already granted more than $27 million to help health workers and facilities manage the strains put on them by Covid-19. One major intended use of the funds is to help community health providers in cities have seen high Covid-19 fatality rates among African Americans, such as Detroit, New Orleans and New York City.